Front Page
Nation
Business
Search
Subscription
Advertising
About us
Copyright
Contact
Nation
Bush calls for 'clear prospect' for NATO
KIEV, March 29 – Ukraine and Georgia should be given a "clear prospect" of joining NATO, U.S. President George W. Bush told a German newspaper ahead of a NATO summit in Bucharest, according to Reuters reported Saturday.
Yushchenko assures US of pro-West course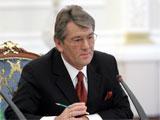 KIEV, March 30 – President Viktor Yushchenko assured U.S. Vice-President Dick Cheney on Thursday that Ukraine will continue course on European integration and economic reforms following Sunday's general election, Yushchenko's press service reported.
Archive of Nation
Currencies (in hryvnias)
| | | |
| --- | --- | --- |
| | 14.12.2018 | prev |
| USD | 27.87 | 27.81 |
| RUR | 0.421 | 0.419 |
| EUR | 31.69 | 31.55 |
Stock Market
13.12.2018
prev
PFTS
562.3
573.9
source: PFTS