Front Page
Nation
Business
Search
Subscription
Advertising
About us
Copyright
Contact
Nation
Bush calls for 'clear prospect' for NATO
KIEV, March 29 – Ukraine and Georgia should be given a "clear prospect" of joining NATO, U.S. President George W. Bush told a German newspaper ahead of a NATO summit in Bucharest, according to Reuters reported Saturday.
Yushchenko assures US of pro-West course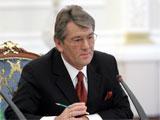 KIEV, March 30 – President Viktor Yushchenko assured U.S. Vice-President Dick Cheney on Thursday that Ukraine will continue course on European integration and economic reforms following Sunday's general election, Yushchenko's press service reported.
Tariff hike sought for Russia's Gazprom
KIEV, March 29 – Ukraine seeks to change a key natural gas supply agreement with Russian gas giant Gazprom that may lead to Ukraine charging a higher tariff for Russian gas transit to Europe.
Archive of Nation
Currencies (in hryvnias)
| | | |
| --- | --- | --- |
| | 21.09.2018 | prev |
| USD | 28.06 | 28.12 |
| RUR | 0.422 | 0.420 |
| EUR | 33.03 | 32.81 |
Stock Market
20.09.2018
prev
PFTS
539.4
539.2
source: PFTS