Front Page
Nation
Business
Search
Subscription
Advertising
About us
Copyright
Contact
Nation
Russia apologizes for delaying flight of U.S. senators to Kiev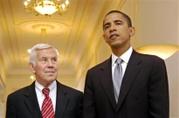 KIEV, Aug. 30 – Russia apologized on Monday for keeping two U.S. senators on the way to Kiev waiting for three hours in a Russian airport after border guards expressed concerns about letting the U.S. military flight depart without an inspection of the plane.
Socialists call for head of NBU governor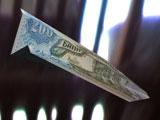 KIEV, Aug. 30 – The Socialist Party, one of three groups in the government coalition, Tuesday called for dismissal of the governor of the National Bank of Ukraine, alleging a strong hryvnia is hurting the economy.
Ukraine loses WTO dispute to Russia
GENEVA, July 30 - Ukraine lost the bulk of a legal dispute against Russia on Monday, when a World Trade Organization dispute panel struck out many of its arguments about Russia refusing to import Ukrainian railway equipment, a major export earner for Kiev, Reuters reported.
Putin expels 755 U.S. diplomats
MOSCOW, July 30 - Russian President Vladimir Putin said Sunday the U.S. diplomatic missions in Moscow and elsewhere in the country will have to reduce their staffs by 755 people, signaling a significant escalation in the Russian response to American sanctions over the Kremlin's intervention in the 2016 presidential election and its continued aggression in Ukraine, The Washington Post reported.
5 countries probing MH17 downing will try again at UN, Kiev envoy says
UNITED NATIONS, July 30 - Ukraine's foreign minister said Thursday that the five countries investigating the downing of a Malaysia Airlines plane over Ukraine a year ago will try again to get U.N. Security Council approval for an international tribunal to prosecute the alleged perpetrators.
Archive of Nation
Currencies (in hryvnias)
| | | |
| --- | --- | --- |
| | 22.10.2018 | prev |
| USD | 28.18 | 28.04 |
| RUR | 0.428 | 0.427 |
| EUR | 32.32 | 32.26 |
Stock Market
19.10.2018
prev
PFTS
559.8
560.4
source: PFTS